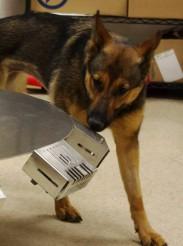 "I was astounded at the training these dogs receive and their ability for detection." - William Shatner
A novel research collaboration at the University of Pennsylvania
Ovarian cancer is the fourth leading cause of cancer death in women. When diagnosed early, women with ovarian cancer have a 5-year survival rate greater than 90%. However, more than 80% of patients are diagnosed at a late stage when even aggressive treatment with surgery and chemotherapy are unable to stop the cancer. Any advance that can accurately detect ovarian cancer in its early stage can have a great impact on overall survival.
The Penn Vet Working Dog Center, Penn Medicine's Division of Gynecologic Oncology at the Abramson Cancer Center, and the Monell Chemical Senses Center have collaborated to study the odors emanating from ovarian tissue to provide a reliable, detectable substrate for the early detection of ovarian cancer. This project utilizes the ability of canine and other sensors to detect the unique signature of serum samples from ovarian cancer patients versus controlled patients. It has been found that volatile organic compounds (VOC) or odorants are altered in the earliest stages of ovarian cancer, even before the cancer can be detected by current early detection methods.
In addition, the program aims to determine which sample type (serum, vaginal secretions, urine or exhaled air) is most affective and accurate for screening, and if this screening method is applicable to other cancer types. This unique program trains dogs to detect ovarian cancer by sniffing these odorants in a patient's blood sample. Research has shown that trained detection dogs and electronic nanotech devices can detect these minute quantities of odorants. The goal is to implement these methods from the Working Dog Center into the clinic to improve the early detection of ovarian cancer.