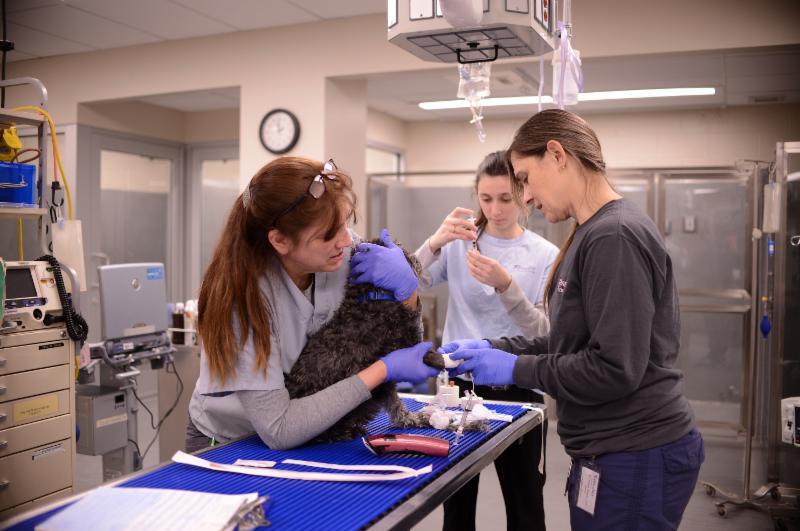 The Emergency & Critical Care Team at Ryan Hospital provides world-class veterinary medicine 24 hours a day, seven days a week. Thanks to the kindness of over 200 supportive donors, we were able to help 181 dogs and 51 cats from July 1, 2016- June 30, 2019 regain their health and return to their loving families.
Why give to the Good Samaritan Fund?
Surgery can be expensive, especially without pet insurance. Sometimes clients cannot afford complex treatments required to help their beloved pets. Fortunately, Ryan Hospital has a Good Samaritan Fund that can help offset some of those costs for pets with a good prognosis, whose owners qualify for assistance under the guidelines of the Fund.
"The financial impact can be devastating to these owners at at time when they are experiencing some of the hardest times of their lives. The Good Samaritan Fund can provide a ray of hope for them when they so desperately need it," said Dr. Ken Drobatz, Director of Emergency Services for Ryan Hospital. He continued, "The Fund is a win, win situation for all - the client, the pet, the veterinary medical staff, and the students who learn from the medicine that is taught during the treatment of these dogs and cats."
As clinicians who enter the field of veterinary medicine to care for pets, it can be devastating on a personal and professional level to have to needlessly euthanize beloved family pets . The impact of the Good Samaritan Fund on everyone involved is broad and meaningful.