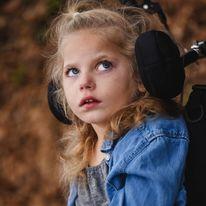 Avery
CDKL5
Our daughter Avery is eight years old. She is the sweetest, happiest girl you will ever meet. She smiles quickly and melts the heart of everyone she encounters. She loves to swing with her sisters and ski with her family. Her big sisters dote on her and her family loves her fiercely.
She also has CDKL5.
CDKL5 is a rare X-linked genetic disorder that results in early onset, difficult to control seizures, and severe neuro-developmental impairment. Most children affected by CDKL5 suffer from seizures that begin in the first few months of life. Most cannot walk, talk or feed themselves, and many are confined wheelchairs, dependent on others for everything.
At this time there is no cure.